Discover more from Summer Lightning
Witness gonzo stories
#18 End of a 17 year narrative
For Messi and for me
"football, bloody hell" - Sir Alex Ferguson
note: this article refers to soccer as football
I cried on the night of June 16, 2006. I know this cause Argentina had routed Serbia and Montenegro 6-0 in their World Cup opener that day, which included what is now remembered as the best team goal at the World Cup - a 26-pass move that started as a saunter and crescendoed with a back-heel pass from Hernan Crespo that set up Esteban Cambiasso. I've all 26 passes memorized. It's probably one of my most watched videos on YouTube. The 2006 team is infamous for having featured four players who were touted as the next Maradona - Riquelme, Pablo Aimar, Saviola, and the newest Maradona, this baby-faced kid called Lionel Messi. I had read all about Messi before the world cup began, that he played for Barcelona, that he was so small as a kid that they had to put him on growth hormones, but what settled the debate of whether he would be the greatest or not was that we shared a birthday - June 24. I had yet to see him play but decided to become a fan for life. I cried that night because I did not get to watch the match. My father decided that my now irrelevant math test scores were not good enough for TV privileges. I sat in the corner of my room crying, and then I prayed that Messi wouldn't disappoint (like I disappointed my father) and that he would become the greatest player ever so that at some point, when I do have TV, I can watch him play.
Thanks for reading Summer Lightning ! Subscribe for free to receive new posts and support my work.
I also memorized the 26-pass goal because I had to convince my friends that I watched the game. So I memorized it from the graphic on the sports page the following morning at 6AM. I come from a part of India that is obsessed with football. The first time I used the word sublime was to describe the moment when a local lad playing for the city's football team scored the 3rd goal in a tournament semifinal to send 100,000 people packed into the stadium wild. I remember wondering if the whole structure was about to collapse and not caring if it did. So you see how important it was to memorize that goal.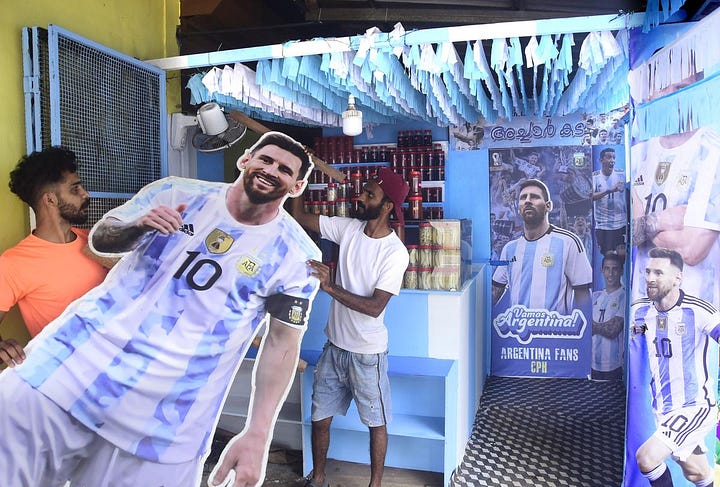 India has a terrible record in football, so in our part of the country we sublimate our desire for world cup success by being diehard fans of South American nations. I do not know if it's because we have the same skin color or because South American literature mirrors that from Kerala very closely in themes and use of the surreal and the absurd. In 2006, my high school class split into two teams - one of Argentina supporters and the other German supporters. The German team was composed of all the perfect A kids who were good at math. The Argentine team was made of ones who got into fights and got too emotionally involved in schemes like this. During recess, we had our own version of the Argentina vs Germany 2006 quarterfinal. The German team would score first and then late in the game as the match seems to slip away; yours truly hits a half volley to level the match and swerves away with arms outstretched, just like I had seen in a newspaper clip of Messi. The real Argentina team would go on to lose the game to Germany in penalties, one in which Messi did not even feature.
Painful and unsatisfying is how I would describe supporting Argentina in the 2010, 2014, 2018 World Cups. This was true for Messi as well. Even in the 2014 edition of the World Cup when Argentina made it to the finals, they never looked confident enough to win it. The gameplay seemed purposeless for the most part and relied on sporadic moments of sublimity produced by Messi. That 26-pass goal was now just romantic nostalgia. In the years between World Cups I would check in on Messi to see if our narratives collided, at least spiritually. We share a birthday after all. He almost quit playing for Argentina in 2016, which was a really bad year for me.
The internet reduced the asymmetry of information between Messi and me (in the direction of Messi obviously) in the last decade, and as it always goes, if you know your heroes too closely, they are likely to disappoint. So I started to lose touch with him, but he would occasionally show up with moments that anyone who appreciated football once in life could not ignore.
I did not even watch Argentina's first 2022 world cup match against Saudi Arabia. They lost. I figured its another classic Argentine world cup disappointment. I dragged a friend along to watch the must-win game against Mexico. This was necessitated more by habit than anything else. I was stuck in a liminal space where the narrative of praying for Messi to be the greatest ever could not be completed without a World Cup triumph. I told him it would be a boring game until Messi produced a 10-second moment of magic, and that's how it went. "They can get to the quarterfinals at best with that type of game" I remember telling him. But the next game against Poland had team goals with less involvement from Messi. "Wait until they face a competent European team," I remember telling my uncle. Argentina threw away a two-goal lead against the Netherlands but made it through the quarterfinals with another team performance punctuated by Messi Magic. That old narrative had started picking up momentum again.
I watched the final from the confines of my home, alone, because I knew I'd be overwrought with emotions. 1-0 to Argentina from the penalty spot, and then in the 36th minute, a forward pass from defense, a perfectly weighted Messi flick that drags a defender out of position. Two more delightfully weighted passes that make it seem like the players are bending time to their will to give their counterparts that extra second needed for the perfect touch, and then Di Maria nestles it into the back of the net by driving the ball down to the ground so that it bobs up just the perfect amount to escape the diving goalkeeper. The perfect team goal of this world cup, the end of my 17-year wait to see something like that 26-pass Cambiasso goal I cried over . All the ensuing drama didn't matter. Argentina was going to win, and my prayer for Messi was going to be answered.
Thanks for reading Summer Lightning ! Subscribe for free to receive new posts and support my work.